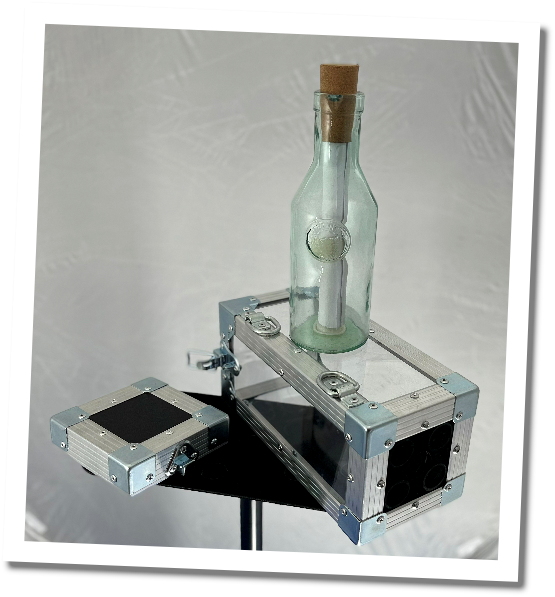 It's the perfect prediction prop hanging above the stage in full view of the audience is a clear Perspex security case that has a large corked glass bottle which can be clearly seen has a rolled up "message in a bottle" inside it.
Whenever you want in the show you have the flightcase lowered down, unhooked and moved to the middle of the stage where you openly and cleanly release the catches and remove the lid (no funny moves, no "accidentally" obscuring the view of the bottle etc) to take the solid glass bottle out. You uncork the bottle, tip the message out and unroll it to reveal a hand written prediction that contains just about anything you want it to. It really is the rolled up prediction they have seen from the start that you unroll, there's no extra boxes or switching, it  is that simple, really is that clean and the only "move" takes less than a second, way before the audience suspect anything and is part of a completely natural handling of the prop; you are going to LOVE how clean and easy this is to perform; fool-proof mechanics and a crisp minimalist design makes this a real working prop for real working pros.
Table is made from aluminium covered with a tough durable powder-coat finish and quickly separates into pieces for easy transportation. The "old" glass bottle is actually a custom made heavy duty bottle designed to be reused for thousands of performances and the flightcase is a properly fabricated, double-extruded high quality flightcase built by the UK's biggest manufacturers. No corners have been cut to ensure this effect is practical, durable and dependable for the performer who demands the very best from his props.
We know what you're thinking - there's no way the effect is as good as it sounds; but we promise you, after thousands of hours research and testing we have made sure it is every bit the impossible prediction you hope it is!
Now UPGRADED we have incorporated all the improvements and notes from hundreds of real world performances to make this impossible prediction system even better!
The Table now comes with a removable/replaceable surface, breaks down into 4 pieces and assembles quicker than ever.
The Base is now triangular, larger and comes with rubber locking castors enabling it to glide over the bumps and lumps found on a busy stage yet also be locked securely in place on a rocking stage.
Improved bottle gimmick will last longer, is tapered to make activation easier and now comes with an extra something so that if you want to you can show every side of the bottle to be solid.
A redesign of all the mechanical and moving parts to make them even smoother and simpler.
The best, just got even better!
(If you have the original version of Bottle It! we have an upgrade kit available so you can take advantage of many of these new features and innovations)